I don't have a huge amount of time to post today but I really wanted to link up with KTJ for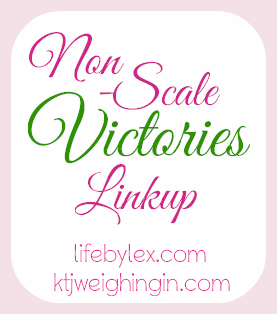 This girl is doing a fantastic job with her weight loss but has received some hurtful comments lately. I just wanted to link up to show that she has a whole army of supporters out here in blogsville!
I guess my NSV for this week would be having my photo taken at bowling yesterday & not wanting to immediately delete it (trust me, the outfit looked much better with knee high brown boots but alas bowling alley policy is to make you look like more of an idiot than you do actually trying to bowl the ball!)
OK, this is a REALLY stupid picture but I wanted to show you said stupid bowling shoes! You're welcome.
Trust me, it is totally alien to me to have a picture taken unawares and not be horrified when I realise I didn't get time to suck it in & offer my "thinnest" side. Don't get me wrong, I do not love this photo but neither am I so ashamed that I want it removed from the face of the earth!
Some more photos of Jake's 6th Birthday
My special guy & me
Happy Boy
Mr F & Oscar
I can't believe he is 6!
Oscar did a victory dance after every go
and so did Jake
One of his best presents
Iron Man 3 makes a grand appearance on the cake
It was a lovely day but unfortunately Mr F was (and still is) very ill. This time it isn't the usual "Man Flu" he really is poorly. But boy do we know it! Honestly I think we would have an only child if he had gone through labour. Nope, crazy old me decided I could do it another 2 times and live to tell the tale like millions of other women. There is a reason men don't have babies, they never fully grow up themselves.
So I am off to tend to the sick and put the boys to bed.
Have a good one x x