I can't believe it's Thursday already, these long weekends really throw me :)
Today I am having child issues (with 3 young boys - no big surprise) How do you guys deal with sharing toys? (I don't mean between yourselves, I'm talking about the little ones!) B (7) & J (almost 6) share a room. They don't really have to although if they didn't I would have to lose the JUNK utility room. They choose to. J doesn't like the dark and prefers to be in with his big brother. O has his own room and obviously so do me & Mr F. The problem is their toys. They don't really have one half of the room each, they just store all their toys together and play along nicely.
Most times.
Today it's another case of "MUM, O has my wrestler and B wants to play with his car and I want B's transformer - but it's MINE!" kind of thing.
There is no real way I could possibly divide ALL the toys exactly and I don't want to, they are brought up to share. They do have private places each i.e a drawer (supposed to be for underwear but houses army men, bits of plastic, leaflets etc) They also have a high shelf for their breakables or extra special toys & a locked box for their valuables (bits of string, leaves, old bottle tops - don't you just love what kids find "value" in) But as for who each car or boat belongs to is just not really defined. They all play with each other anyway. I guess it's just something I will have to referee and try to be as fair as possible.
I love my boys to the moon and back but they are going to turn me grey by 35, I swear.
Another example of what a disorganised mother I am is finding Oscar's nursery acceptance letter amongst clutter today and realising the closing date for handing it in is tomorrow. Phew, nearly missed that one!
Which kind of brings me on to today's workout - skipping the official plan and taking Oscar & my pup Ruby to the play park instead :)
After signing his nursery letter it hit me that come September somebody else will be entertaining him for 3 hours a day. I got a bit sad and thought to myself - go out & have fun with your boy, you wont ever get today again!
I intend to enjoy the small things in life while I can because there will be one day when he won't want to come to the park with his mummy.
He will be too big to be lifted into the swing.
He wont stop to pick me a flower every 10 steps he takes.
He won't come running at me full speed to be picked up & swung through the air.
Then I will be sad. Until I remember today. The day I said "workouts can wait" & just enjoyed the small things.
So I probably burnt the same calories as Body Revolution, it just took twice as long and was a whole lot more fun.
Today I wanted to link up with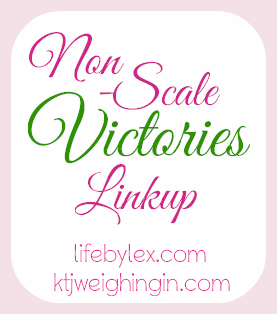 My non scale victories for this week are:
1. Wearing a bikini (in our private garden) for the first time EVER. I don't think Mr F has even seen me in one since we met in 2004. I am no where near the "getting it out in public" stage but I felt good enough to strut my stuff at home (by the way I forgot to put sunscreen on and as my belly has never really seen the light of day, it got very burnt! stupid girl)
2. Being told by my brother that I have done AMAZING! with my weight loss. He is not a complimentary person nor does he ever say things that he doesn't mean so I was very pleased with that :)
Next I need some hair - help (excuse the zero make up face, I had just showered and dried my hair)
It is long and thick and I just don't know what to do with it (That's what she said) I would like to keep the length but maybe add a soft curl? It takes hours to straighten and when it gets damp - poof - I have frizzy head again! So if any stylists have a suggestion I'm all ears (& hair)
OK so that's me for today, just documenting another day in our lives. That's the reason I started this blog in the first place. I just wanted to share my life and my journey to get fit & healthy. And if I make some like minded blogger stalkers friends along the way - even better!