I was going to title this post "Wobble Wednesday" then I thought what better way to have a wobble Wednesday post than to link up with
The Naked Mum's Wobble Wednesday
- Fitting, right?
Then I came across these awesome gals so I thought I'd link up with
Alex
&
Erin
Really, you need to go check out their blogs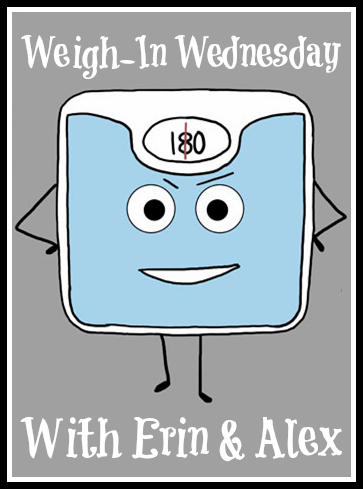 And I will post my weight of 166 lbs for this week


So today is day 3 of me being back on it - back on Body Revolution - Back on WW - back on the roller coaster of weight loss & fitness.
Day 3? I don't know why but it feels more like year 3. Counting every morsel that I put in my mouth, working up a sweat every day, planning my meals for the next week and the next. Some times it just feels like such a drag.
I don't mean to be a downer but I'm being honest. I just want this done already. Except, it never will be done will it? when I reach my goal I can't just stop working out, stop tracking, stop planning. If I do I'll be right back to being this girl
She was so happy with every aspect of her life apart from the one thing she knew she could do something about, but didn't. She was ashamed of being too weak to stand up and fight - fight to be healthy - fight to change - fight to be the pretty, skinny girl she felt like on the inside.
I won't be that girl again. She has gone and I stand in her place.
Yes I will have days when I feel like saying "is it really worth it?" I will have days where I just want to go out & have fun and forget all about points, calories and heart rates - probably a hell of a lot more often that I should!
But I will always be a fighter now.
I will fight the temptations, the bad habits, the negative feelings. One thing about fighters is that they don't always win, but the best ones always get back up. And so will I.
I have no idea why today it all feels so hard, so early on but it does.
Perhaps it's because I've been working at it a while. It could be that I'm missing the week or two of not logging and tracking, when I didn't lose anything but I didn't gain either. I could be telling myself "you don't weigh 200 lbs anymore - 166 is so much better" I don't know. All I do know is I will stay strong. If not today, then tomorrow. If I go out for wine & Pizza I know that tomorrow I will workout twice as hard and be twice as good with my logging.
I will not let one day slip into an endless stream of bad habits and excuses. I will keep pushing and reach that goal.
Yesterday I reached 2,000 page views. Now all you seasoned bloggers, please stop laughing. I know it's a tiny number really but that means that in the 3 months since I decided to put my story out there for the world to read, people have read it, 2,000 times.
I never thought anyone would be interested in the ramblings of a 31 year old mum from the very South East coast of England. I have 2 followers - 2! (thanks guys) but I guess there must be a few more of you out there who want to know the outcome of this story and I thank you for sticking with me.
I am no computer expert and have designed my banner & button all by myself and worked out how to actually display it (with a little help from google)
I am learning more each day. About everything.
If any of you have a blog and a space for my lil' ol' button, please take it and display it. Leave a comment if you do and I would love to come and visit it at it's new home. If you would like your button displayed in return or a mention on my blog list, I'm happy to return the blogger love:) And come on people FOLLOW ME! I have 2 followers, a blog I read the other day has 28,000! I mean really? (yeah but she's interesting you say)
Anyway I have no idea why I want followers or what it really means other than I need to keep posting and updating here because someone is out there and wants me to.
So if you are feeling like you can't do this today or you don't have the strength to fight for yourself,
I'm here.
I've got your back.
We can do this, one step & one day at a time - together
OK enough shameless grovelling/pity partying/tiniest violin in the world playing etc lets get down to it.
C25K Week 5 - Day 1
As you know I am currently doing Jillian Michaels Body Revolution but am substituting the Cardio workouts by doing Couch to 5K (Again!)
Not much to day about this one other than I cranked up the music, hopped on the treadmill & got it done. I love the high I get from running and the time it gives me to just let my mind wander.
Yesterday's Eats
Breakfast was again a wholemeal pitta but instead I stuffed it with half a portion of the bean mix and added 1 boiled egg. It was very satisfying and I felt good about starting my day with a nutritious meal. I also had a cup of green tea with lemon & a bottle of water.
Calories 268 (WW old points 4.5)
Lunch
A load of vegetables with a small portion of chicken & couscous (around 300 calories or 3 WW points)
For an evening snack I had a Sainsbury's low fat hot chocolate & 2 Caxton's pink & white wafers. This is probably the most processed food of the day but at only 150 calories (or 2 WW points) it feels like a sweet, warm, decadent treat and stops me craving anything else all evening.

I am off now, little O is terrorising the dog with a balloon!

Until tomorrow x x